How Much Money Do You Spend for Holidays?
US consumers love to spend money over the holidays. The chart below shows average spending per person for major US celebrations: the Super Bowl, Easter, 4th of July, Halloween, and the winter holidays. Many of these costs go towards food, decorations, festive clothing, and gifts.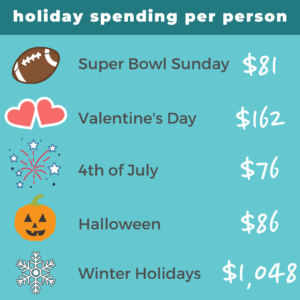 Food
US holidays have a huge focus around food consumption, especially when it comes to meat! Every Independence Day, the US consumes 150 million hot dogs. For Thanksgiving, the US purchases 365 million pounds of turkey. 
Food waste generally increases around the holidays, meaning we're wasting money on food that does not get eaten. Over the winter holidays, waste generation increases by 25%. Every Thanksgiving, the US throws away 200 million pounds of turkey, 40 million pounds of mashed potatoes, and 30 million pounds of stuffing. This increase in waste also increases your trash collection expenses. 
Decorations
Americans dish out a lot of money on holiday decorations. Not only are we paying for the initial cost of the decorations, but we also pay for the energy to light up many decorations. This means that your electricity bills around the holidays. 
Let's say you have your decorations lit up for 7 hours a day for 45 days. For an indoor Christmas tree, this could cost about $17. For outdoor string lights, this could cost $378. And that doesn't even include the upfront price you paid for the decorations themselves.
Festive Clothing
We also love to look festive for the holidays. Over 25% of Americans purchase new patriotic clothing for the 4th of July. For Halloween, the average person spends almost $40 on costumes. Consumer spending on ugly Christmas sweaters has turned this into a multi-million dollar industry. 
Gifts
The winter holidays unsurprisingly result in our biggest spending time of the year. Much of the $1,048 that is spent over the winter holidays goes towards material gifts for family and friends. As a country, the US spends $3.2 billion per year on wrapping paper to wrap these material gifts. This wrapping paper then contributes to the 25% increase in waste generation around the holidays: we throw away 4 million pounds of wrapping paper per year. 
How Can You Reduce Your Holiday Spending?
Homemade
Adding creativity and homemade touches to your gifts can make your loved ones feel special while allowing you to save on gift costs. You can reuse wrapping paper and gift bags to avoid paying for new ones every year. You could also make some stylish wrapping paper out of old newspapers or scrap paper. It's also helpful to reuse decorations from year to year, or to make your own decorations with second-hand material. Second-hand Halloween costumes or Ugly Christmas sweaters can also be much cheaper. Or just rewear your gear from year to year.
When you're looking for presents for your loved ones, make sure you're only getting them material items that they would need or want. It can be much more cost-effective and touching to give gifts like handwritten letters, personal paintings, or time. You can spend a day with them at their favorite place, or offer to babysit their kids while they take a spa day. 
Smart Food Spending
A super easy way to save money over the holidays is to avoid food waste. Revisit our episodes called "House Party" and "Save the Food" to learn more strategies about buying in bulk and planning how much food to buy. There are also a lot of really helpful websites that estimate how much food you should buy based on how many people you are hosting and what types of food they enjoy.
To further save on food expenses, you can purchase less meat and more fruits and vegetables. Check out our "What's for Dinner?" episode to learn more.
Upgrade
To reduce your lighting decoration expenses, you can upgrade your light strings to LEDs. You'll achieve even further savings if you keep the lights on for fewer hours a day. Upgrading all lighting throughout your home can save on electricity costs all year, but especially when you host indoor holiday celebrations. 
Disclaimer: Please consult with a professional before making any upgrades to your lighting, dieting, or home. Any and all upgrades should maintain proper health, safety, and sanitation levels within your homes. It All Adds Up and its affiliates are not responsible for any household damage or personal injuries that should occur from following any suggestions from It All Adds Up.
Do you have a certain topic that you would like us to talk about?
Check out our latest episodes for tips and tricks to save you money!
We send out a weekly email to our listeners that reviews that week's episode! To join our mailing list, enter your email in the box below and hit "Subscribe." Make sure to add [email protected] to your contact list.
Get to know more about us and the team behind our podcast!